Continuing the Story, Supporting the Future
We're redefining the Assisted Living and Memory Care experience.
Our Resident First philosophy is the foundation for the Lynridge Assisted Living & Memory Care experience. We're dedicated to providing exceptional care, with individualized care plans tailored to every need and robust social programs that provide an active, fulfilling lifestyle.
Spacious, private apartments come in the form of multiple pet-friendly floorplans. They feature in-unit kitchenettes, with weekly housekeeping and linen services. Each unit is equipped with a pull cord and pendant for assistance, in addition to safety-equipped bathrooms and on-call nurse care.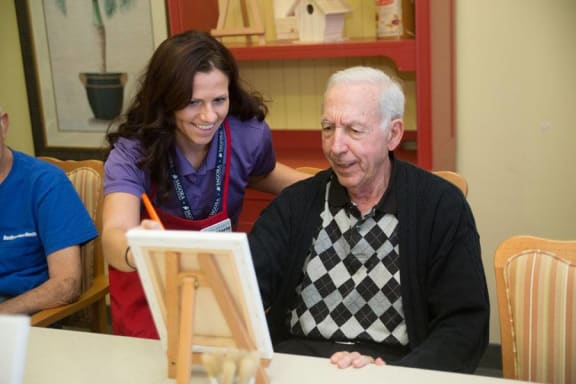 A laid-back environment, on-site salon, fitness room and library make for a sophisticated experience that promotes a high standard of living. Want to find out more? Visit Lynridge Assisted Living & Memory Care today!
See What our residents are saying
My mom has lived at Lynridge for over 2 years and it has been a very good experience. The atmosphere is nice, the staff is awesome and very responsive. Mom says the food is good! Especially dessert. I feel like it is a good place for her and am happy with the care she receives.
- Family Member
Lynridge came into my family over two years ago when my family member began to live at the community. The level of care and compassion every member of my family has received in an effort to nurture and protect my dad has just blessed each of us. When I share our experiences with others, they are amazed to hear how well Lynridge is doing their job. God bless each of you!
- Family Member
I have watched the staff and caregivers interact with my dad over the past couple of years. They make him feel loved, welcomed, and appreciated as a resident at Lynridge! They have made Lynridge a home to him and for him. I trust them and appreciate the two-way communication we have with one another! I am so thankful that I found them when the time came for my dad to have assisted living and then later memory care. Lynridge is the best in my opinion and experience!
- Family Member